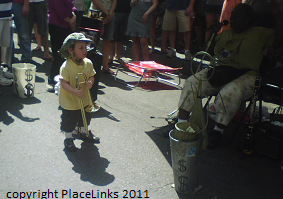 As a way of being creative about your job, sometimes it is fun to use analogies. As long as you spot where they fall down. Of course, the mixture of subjects on this post could ruin our SEO juice at PlaceLinks, but all told, it is worth a try. I was down in New Orleans for the Festival and set myself the task of relating the music trip to how to write and manage social media, which we try to measure here with Media Dashboard. It made for good late night bar conversation too. Will customers be dropping dollars into your bucket? Here are 10 topics to think about.
Entertainment beats facts most of the time. Do you ever feel like some social media writing is as dry as an Arizona forest? Fun is pervasive in any survey of good campaigns, like the Isaiah Mustafa Old Spice ad. So resist the temptation to write your best content like a product spec sheet.
Appearance and stage craft send a strong message. Why do actors learn just to walk across a stage? Why do singers obsess about their clothes? Non-verbal clues reach us all at an emotional level. So yes, obsess about the communication mission of every piece, its images and design values.
The best performers show you there is no other place they would rather be than right here, right now. Next time you watch American Idol ask if the losers fail on vocal quality or stage presence. When we engage our customers, we should be at the top of our game, in attitudes and demeanor.
One task for the performer is to get you there, one to engage you, one to inspire, one for an encore. This one translates well to process and measurement. We spend so much of our time getting traffic, that we don't spend enough time worrying about if the content we are inviting our customers to is going to please them. Are we going to make them feel better leaving than walking in the door? And do we give them a little something special as they leave? They even have an old French word for this in New Orleans, "lagniappe".
Entertainment is about diversity of styles. One genre or subject will bore your audience. Every good musician and movie has blend of song styles or a story arc to lift us up, then set us down for a farewell. Are you boring your customers? Can you measure that?
Sometimes the performer�s lifestyle is the content, sometimes its just the music. This is really about brand, the promise, the content and the image. Try this test; if you can parse the facts from the image in any creative concept, you have not written well enough.
Don�t be afraid to address people�s deepest joys and fears. Tourism Queensland did a contest for "Best job in the World" that got phenomenal free press. Who hasn't dreamed of living on a desert island and still having a real job to pay the bills?
Be true to your image and the published program. The Boss doesn�t put opera in his play list, even though he may secretly enjoy it in private.
Success is about rapt attention, smiles and cheers as well as applause, and showing up for the next show. Are you measuring all five? It should be more than staying glued to your "like" button scores. I wish we had a more subtle way of measuring a smile response online, and even applause. We are working on it.